Supplying to Handicare
Handicare Group Purchasing is responsible for optimising the Group's contractual terms while maintaining the quality of the goods and services purchased, striving to build balanced relationships with Suppliers. Handicare's purchasing process complies with the principles of internal control and Group Authorisation Policy concerning the separation of roles and responsibilities.
Our Suppliers are considered as important assets in facilitating value added and continued growth of the Group. Relationships are based on mutual respect, sound ethical business practices and credibility. Procurement activities are conducted within the framework of the Handicare Code of Conduct and applicable laws and regulations. Should a business partner become aware of any circumstance that may violate our Code of Conduct, they should report the issue to a Handicare management representative.
To achieve the high level of quality with the solutions we offer, we therefore ask our business partners to adhere to the Handicare Supplier Qualification programme, as per below;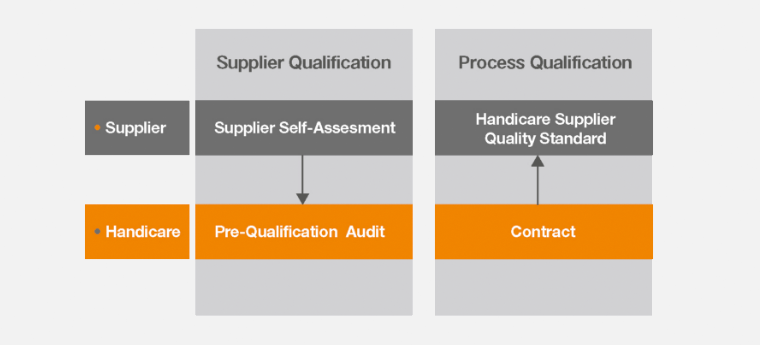 Our purchasing organisation
Business ethics
Becoming a supplier
Supplier quality assurance documents